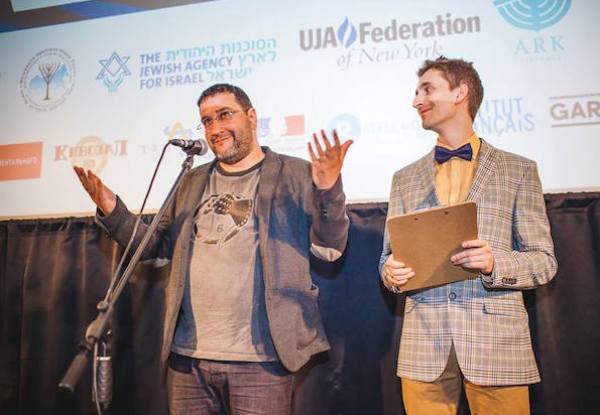 18.06.2015
The Festival's closing ceremony was held on June 17. The jury awarded prizes to five films.
The 1st Moscow Jewish Film Festival, that presented more than 20 Russian and Foreign works, held its closing ceremony on June 17 in the Documentary film center. The Festival jury, which consisted of Alexander Boroda, the President of the FJCR and Director General of the Jewish Museum and Tolerance Center, head of ROSKINO Ekaterina Mtsitouridze, film director and producer Konstantin Fam, film producer Ruslan Sorokin, and film director and screenwriter Alexander Kott, selected winners in three competition categories and awarded two special prizes.
The award for the Beat Film went to a German picture «Anywhere Else» by Ester Amrami about a young woman trying to choose between Berlin and Israel. The award for the best documentary went to «Night Will Fall» by Andre Singer, a film based on the work by Alfred Hitchcock and Sidney Bernstein. A short film «Boulevard's End» directed by Nora Fingscheidt, a fifteen minute journey through history, won in the category of short films.
The jury also awarded two special prizes. The Honorary prize of the 1st Moscow Jewish Film Festival «For outstanding contribution to the development of Jewish films in Russia» was awarded to Yakov Kaller (Kaller produced the film «Yakob Kreyzer. Forgotten general» that was shown during the Festival). The Special jury prize of the 1st MJFF went to the documentary film «Regina» about the first woman rabbi. The film's producer George Weisz, father to Rachel Weisz who voiced-over the picture, has personally attended the film's screening during the Festival.
Vanya Bowden, program director of MJFF:
Frankly speaking, my biggest fear was that our audience would simply not be able to watch all the pictures of the program, since they cannot, of course, be spending their entire days watching films. But what happened was that we got were full auditoriums. This is the only criteria that absolutely proves the necessity of our Festival.
Film screenings and lectures of the MJFF took place at the Jewish Museum and Tolerance Center, Documentary film center, and GUM cinema, and were attended by more than 2000 people in three days. The organizers have announced that they have already began preparations for the 2nd Moscow Jewish Film Festival, and expressed hope that the Festival will grow to be a good tradition in Russia.