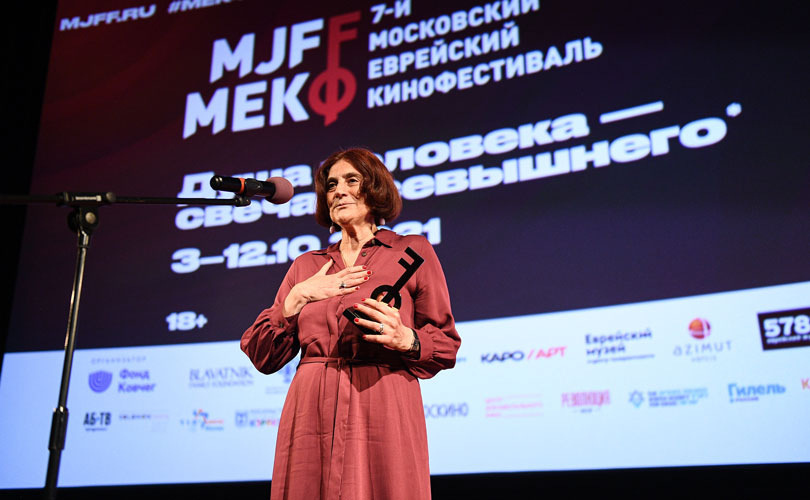 03.10.2021
The winners of the Yakov Kaller Award and the Honorary Award of the 7th MJFF were announced during the ceremony.
The Opening ceremony of the 7th Moscow Jewish Film Festival took place at Oktyabr Cinema on October 3. The animated drama Where is Anne Frank was screened as the opening film of the Festival. It was introduced by Israeli director Ari Folman and producer Alexander Rodnyansky.
The special Yakov Kaller Award for the Best Russian Jewish Film of the Yearn in 2021 was awarded to Persian Lessons by Vadim Perelman.
The Honorary Award for the Outstanding Contribution to the Development of Jewish Cinema in Russia was awarded to documentary filmmaker Elena Yakovich, author of films about Joseph Brodsky, Vasily Grossman, Sergei Dovlatov, Vyacheslav Ivanov.
Alexander Boroda, President of the Federation of Jewish Communities of Russia:
Elena is a recognized filmmaker who explores historical issues and reveals the souls of the greatest artists, scientists, and public figures of Russia to her audiences. Elena openly raises the Jewish theme in many of her works, and every time she discovers a new understanding and new details of Jewry and Judaism. It is extremely important that documentaries and historical films are distinguished by their depth of thought and thoroughness of research — but that they are also accessible to the general public and become a sought-after source of knowledge.