The 6th MJFF comes to an end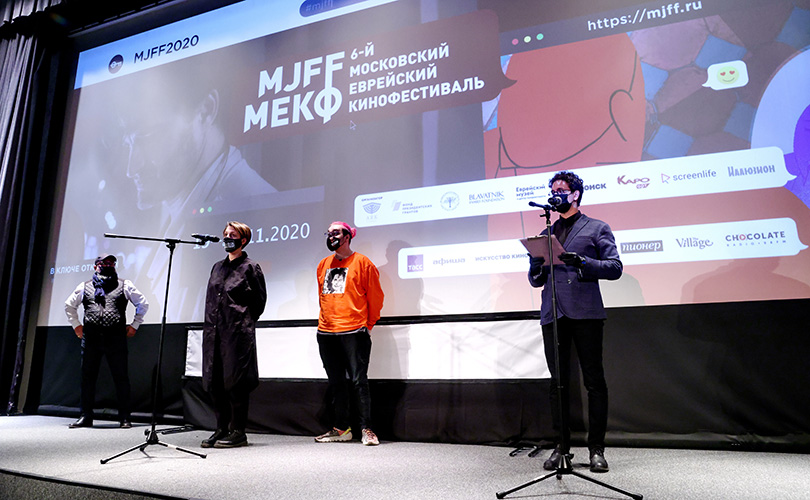 29.11.2020
The Closing ceremony of the 6th Moscow Jewish Film Festival took place in Illuzion cinema.
The 6th Moscow Jewish Film Festival took place in Moscow from November 19 to November 29. For the first time, its screenings took place semi-virtually, happening both off and online. The Festival presented the audiences with the best contemporary films on Jewish themes. The screenings were accompanied by educational events and Q&A sessions with filmmakers. The in-person screenings were hosted by the Oktyabr cinema and Illuzion cinema. Online screenings took place on the new zerem.tv platform – the first online cinema of the Jewish films in Russian, which was launched specifically for the 6th Moscow Jewish Film Festival. The screening of the program films was available for free. The design of the Festival employed the elements of the screenlife format, with the action unfolding on screens of personal laptops or mobile devices. The Festival received support from the Presidential Grants Foundation.
During the ten days of the Festival more than 50 films from Hungary, Germany, Brazil, Argentina, Israel, Canada, USA, France, Spain, Switzerland, Denmark, Romanian, and Australia were screened.
The Jury of the 6th Moscow Jewish Film Festival will be headed by the Russian film director, producer, and screenwriter Timur Bekmambetov.
Timur Bekmambetov, President of the Jury of the 6th MJFF:
The Moscow Jewish Film Festival was held under the sign of technology. We watched films on big screens in the cinema halls and on the screens of our gadgets at home. Together with the Festival, we have immersed ourselves into the world of screenlife, where our chats and likes became the images of the new digital, screen life.
The Closing ceremony of the Festival included the screening of the film When Hitler Stole Pink Rabbit by the German director Caroline Link. It was dubbed – for the first time – with the use of the artificial intelligence voiceover technology, which can imitate voices based on the actors' work, memorizing their characteristic intonations, emotional coloring, and other parameters. The Vera Voice synthesis technology was developed by Timur Bekmambetov's startup Screenlife Technologies and the Stafory company.