The winner of the Yakov Kaller Award is announced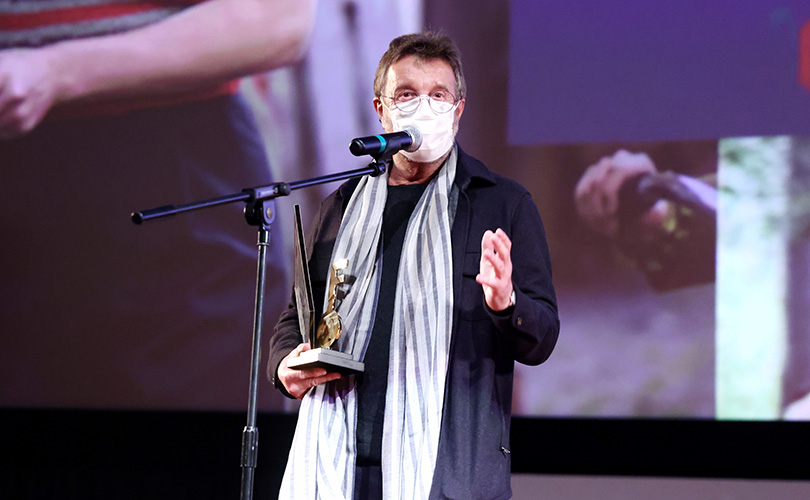 20.11.2020
The best Russian Jewish film of 2020 is Odessa by Valery Todorovsky.
The Opening ceremony of the 6th Moscow Jewish Film Festival took place on November 19 in Oktyabr cinema. The ceremony included the presenting of the special 6th MJFF Yakov Kaller Award "For the best Russian Jewish film of the year" which went to Odessa by Valery Todorovsky. The film's producer Leonid Yarmolnik received the Award for the director. The memorable certificate was awarded by Anna Kaller-Adamskaya, the head of AB-TV Production and Yakov Kaller's daughter.
Leonid Yarmolnik::
It is incredible that we could gather here today, despite the restrictions. I can say with certainty that I am a happy man and a happy producer. Even though I have received many prizes at various festivals – of which I am proud – this award today is very special to me because Odessa is a very special film to me. It was the first time when I played in a film and felt like I understood everything about my character and his life. I had a bright example – I wanted to play my own father very much. The way I feel it, that was the first film with which I succeeded.
Yakov Aleksandrovich Kaller was a Russian television producer, the multiple winner of the Taffy Award. He was awarded the prize For the Outstanding Contribution to the Development of Jewish Cinema in Russia at the 1st Moscow Jewish Film Festival. Yakov Aleksandrovich passed away in 2017, and the organizers of the Moscow Jewish Film Festival established the special award in his name.