The first contribution into the future board of trustees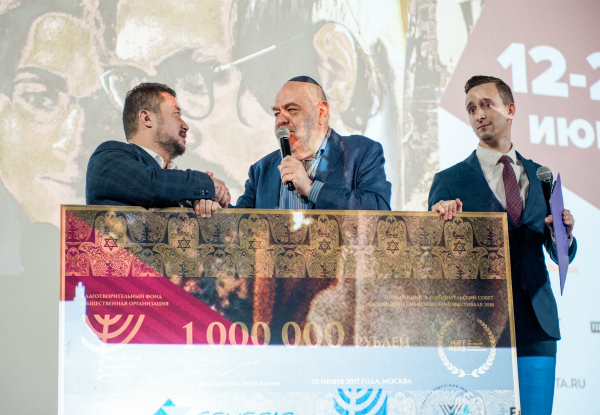 20.06.2017
The Russian Jewish Congress has presented the Festival's organizers with one million rouble check.
On June 20, during the closing ceremony of the Festival, the head of the Russian Jewish Congress has donated a one million rouble check to the Festival organizers. This sum is the first contribution into the budget of the prospective Board of trustees of the MJFF.
Yuri Kanner, the president of the Russian Jewish Congress:
We have been supporting the Moscow Jewish Film Festival in the past, and are determined to extend the support into the future, since we consider this event to be an important one for the Russian Jewish community and for the country at large. The Festival contributes significantly into establishment of international and interconfessional peace. To ensure further dynamic growth and development of the Festival I encourage those who are not indifferent to its fate to form a Board of Trustees. And then the 4th Moscow Jewish Film Festival will be studded with even more stars of Russian and foreign cinematography, and will indeed stand in line with the most celebrated Film Festivals of the world.