The MJFF is named cultural event of the year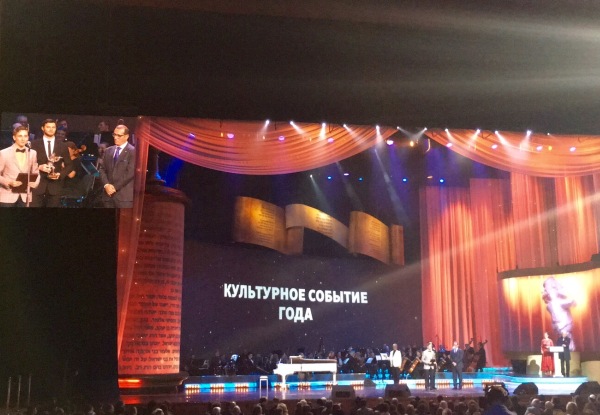 08.12.2015
Moscow Jewish Film Festival won the The Fiddler on the Roof Award in the "Cultural event of the year" nomination.
The Moscow Jewish Film Festival was named the "Cultural event of the year" by the Federation of Jewish Communities of Russia. "The Fiddler on the Roof" Award was established in 2002. Its symbol is a figure of a fiddler on the roof created by sculptor Frank Meisler as a symbol saying that despite any life circumstances a human must remain a "fiddler of the spirit", keep up and go on playing his violin. The annual ceremony takes place on the eve of Hanukkah, honoring people whose activity made a real and recognized contribution into development of the cultural and public life of the country.
Leading the ceremony - Yana Churikova and Vladimir Molchanov - presented the winner of the following words: «The range of films presented at the Festival was highly diverse. They told about the Jewish culture, about life of people in diasporas and in the state of Israel, about family values, religion, literature. About horrible truth of Nazi crimes and complex history of the Jews in the 20th century. Film screenings took place at several cultural venues in Moscow: Jewish Museum and Tolerance Center, Documentary Film Center, GUM cinema. The Festival also incorporated educational program, that was helping the audience understand intricacies of the questions raised by the films. All the events of the Festival received a steady interest from the viewers. The Film Festival was indeed one to remember, it has found its audience, and its guests will be looking forward to attending the Festival next year».
Egor Odintsov, CEO & producer of the MJFF:
It is a great honor for me to receive this Award on behalf of our entire team. "Cultural event of the year" is the awards category that honors collaboration the most, and this success would not have been possible without all the people that have created the Festival and stood at its very beginnings. First and foremost I want to thank Vanya Bouden, our program director, Rusina Lekukh, the Festival PR director, and Constantin Fam, the mastermind behind the idea of the Festival, our mentor and friend, and the recipient of this very award of the previous year, as well as our general partners - the FJCR, the Jewish Agency for Israel, and UJA-Federation of New York. Thank you so much for your trust. I want also to thank my mother and my wife for their boundless support.
Among the other recipients of the award were Sergey Mokritskiy for his film"Battle for Sevastopol" in the "Cinematography" category; the President of Tatarstan Rustam Minnikhanov «for the assistance in organizing the celebration of a hundred-year jubilee of the Kazan synagogue"; the editor-in-chief of the Russia-24 channel Evgeny Bekasov «for a series of television programs about the Jewish Museum and Tolerance Center"; Teacher Emeritus of the Russian federation Grigory Lipman "for exceptional contribution to the Jewish educational system in Moscow.« In the «Living Legend» with the wording of the award «for his outstanding contribution to the Russian culture» he was awarded Garri Bardin. In the nomination "A living legend" the award went to Garri Bardin "for his exceptional contribution to the Russian culture."