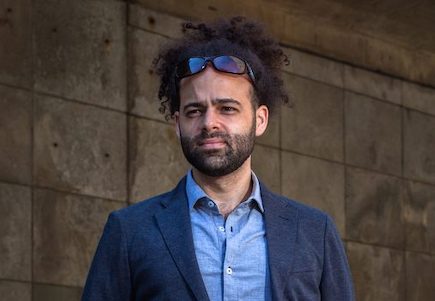 Shawn Snyder
Director
Shawn Snyder grew up in South Florida. After receiving a BA in Religion from Harvard, he spent most of his twenties on the road as a singer/songwriter. The last seven years have seen a return to Shawn's long-standing passion for filmmaking, during which he completed studies at NYU's Graduate Film Program. His first feature, TO DUST, co-written by long-time collaborator Jason Begue, premiered at the 2018 Tribeca Film Festival.
To Dust (2018)
Country: USA
Duration: 105 min
Director: Shawn Snyder
Genre: comedy, drama
Producer: Josh Crook, Scott Floyd Lochmus, Emily Mortimer, Alessandro Nivola, Ron Perlman
Screenplay: Jason Begue, Shawn Snyder
Director of Cinematography: Xavi Giménez
Editor: Allyson C. Johnson
Composer: Ariel Marx
Cast: Géza Röhrig, Matthew Broderick, Sammy Voit
Category: Main Competition, Narrative Feature
Age limitations: 16+
Screenings
23 июня 19:00, Oktyabr cinema - buy ticket
24 июня 19:00, Oktyabr cinema - buy ticket

Plot
Géza Röhrig, a writer and a poet, who has played his first ever lead in Son of Saul, perhaps the most famous Hungarian film of the 21st century (won an Oscar for the Best Film in Foreign Language), portrays a Hasidic cantor Shmuel who lives in upstate New York and whose wife suddenly passes away. Unable to let go of her memory and move on, he begins to study the science behind decomposition of her body in a grave with help of a science professor (played by Matthew Broderick, who is known for his roles in Ferris Bueller's Day Off and The Lion King). Shawn Snyder (this is the first feature film for the American director) is not very reverential in his portrayal of a man who is grieving his loss. Snyder makes a film about the unexpected friendship of the professor and the Hasidic Jew, which happens to involve living and dead pigs, with rather obvious references to some of the films by the Coen brothers (to A Serious Man in particular). The drama turns into a black cynical comedy about death and ways in which it is perceived by the living. The film won the Audience Award at the Tribeca Film Festival in New York.
Rewards and nominations
Tribeca Film Festival 2018 – Audience Award
Trailer
Along with