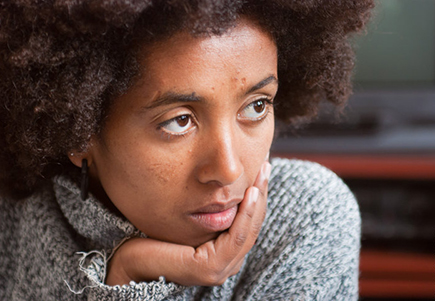 Aalam-warqe Davidian
Director
Graduate of Sam Spiegel Film & Television School, Jerusalem. Her short films Facing The Wall, Transitions, Cleaning Time and Korki were screened in many festivals in Israel and abroad, including the Jerusalem Film Festival and Montreal Film Festival. In her films, Marsha reflects mostly on the immigration experience of Ethiopian women living in Israel. Fig Tree is her debut Feature Film.
Fig Tree (2018)
Country: Israel, Germany, France, Ethiopia
Duration: 93 min
Director: Aalam-warqe Davidian
Genre: drama
Producer: Saar Yogev, Naomi Levari
Screenplay: Aalam-warqe Davidian
Director of Cinematography: Daniel Miller
Editor: Arik Lahav-Leibovich
Cast: Betalehem Asmamawe, Weyenshiet Belachew, Yohannes Musa, Mareta Getachew
Category: Main Competition, Narrative Feature
Age limitations: 12+
Screenings
27 июня 19:10, Oktyabr cinema - buy ticket
29 июня 19:00, Oktyabr cinema - buy ticket

Plot
The year is 1989 in Addis Ababa, Ethiopia. The power is in the hands of dictator Mengistu Haile Mariam, who recruits soldiers for his army from the streets. Mina, the sixteen-year-old Jewish girl, tries to survive in this surreal autocratic regime. Mina's family plans to move to Israel, and she will then have to survive the parting with her boyfriend Eli.
Fig Tree - an international co-production of four countries (Israel, Germany, France and Ethiopia), a precise reconstruction of historical events, a film fashionably shot with a handheld camera - resembles most progressive films from the programme of the Cannes Film Festival, which has in the last decades become committed to showcasing films of the third world countries. Aalam-warqe Davidian - this film is her directorial debut - made Mina resemble herself and used her own memories about childhood in Ethiopia while working on the script. The film was nominated for the Ophir Awards, the Israeli Oscars. The fact that Israeli films can be take place even in Ethiopia is a testament to how truly global the film industry has become.
Rewards and nominations
Toronto International Film Festival 2018 – Audentia Award
Haifa Film Festival 2018 – Best Cinematography
Israel Academy Award 2018 – Best Cinematography 2018
Warsaw JFF, 2018 – Best Feature Film, Best Cinematography
Trailer
Along with