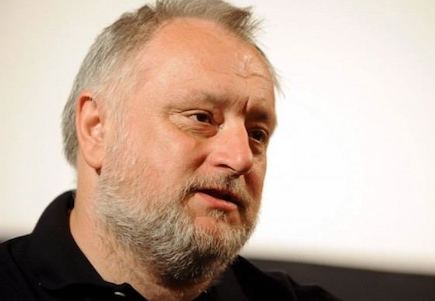 Martin Šulík
Director
Martin Šulík is the most awarded and most prolific Slovak film director of the past 20 years. He is perhaps best known for his much awarded feature, the poetic, philosophical and humorous The Garden (Záhrada, 1995) which has reached cult status. Šulík won two Czech Lions for directing and for the screenplay for The Garden, and a four-time laureate of the annually awarded Igric awards of the Slovak Film Union.
The Interpreter (2018)
Country: Slovak Republic, Czech Republic, Austria
Duration: 114 min
Director: Martin Šulík
Genre: drama, comedy
Producer: Martin Šulík, Rudolf Biermann, Bruno Wagner
Screenplay: Martin Šulík, Marek Leščák
Director of Photography: Martin Štrba
Editor: Olina Kaufmanová
Composer: Vladimír Godár
Cast: Peter Simonischek, Jiří Menzel, Zuzana Mauréry
Category: Main Competition, Narrative Feature
Age limitations: 12+
Screenings
24 июня 22:00, Oktyabr cinema - buy ticket
26 июня 19:00, Oktyabr cinema - buy ticket

Plot
The Interpreter was previously screened at a festival that is very sensitive to the theme of historical memory, as obliged by its location - the Berlin Film Festival. This gentle and ironic Slovakian road-movie (it was submitted for the Academy Award by its home country) brings us into the very heart of old Europe that has been irrevocably changed and cannot be recognized beneath the wounds left by World War II. A retired old man meets an interpreter, and they set off on a journey around Slovakia, looking for a Nazi officer who killed parents of one of the heroes during the war. The lead role is played by the Czech Academy Award-winning actor Jiří Menzel, who for this film was paired with the dazzling Slovak actor Peter Simonischek, one of the best contemporary actors of his age, who won the European Film Awards in 2016 for his lead performance in Toni Erdmann.
Rewards and nominations
Atlanta Jewish Film Festival 2019 - Jury Prize
Cleveland International Film Festival 2019 - Official Selection
Haifa International Film Festival 2018 - Tobias Spencer Award
Jerusalem Film Festival 2018 - Official Selection
Sun in a Net Awards 2019 - Sun in a Net Award
Sun in a Net Awards 2019 - Sun in a Net Award
Trieste Film Festival 2019 - Official Selection
Trailer