Son of Soul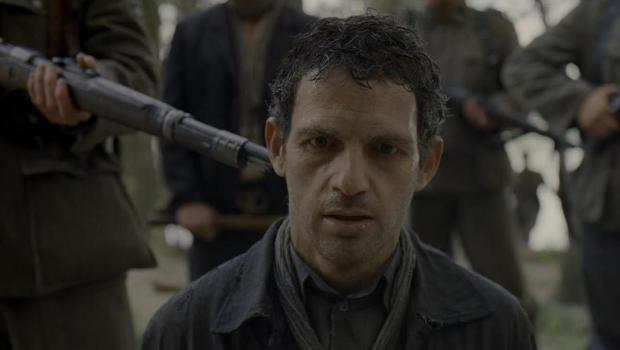 Son of Soul(2015)
Country: Hungary
Duration: 107 min.
Director: Laszlo Nemes
Genre: Thriller, Drama, War
Screenplay: Laszlo Nemes, Clara Royer
Producer: Gabor Rein, Gabor Sipos, Christine Pinter
Operator: Matthias Erdei
Composer: Laszlo Melish
Artist: László Rajk, Hedvig Kiraly, Edith Szucs
Editor: Mattё Tapone
Cast: Geza Rёrig, Levente Molnar, Urs Rehn, Todd Charmont, Val-d'Oise, Jerzy Valtsak
Category: Out of Competition, Special screenings
Age limitations : 17+
Plot
In October 1944, Saul Ausländer (Géza Röhrig), a Hungarian-Jewish prisoner in the German Nazi concentration and extermination camp Auschwitz, works as a Sonderkommando member, burning the dead. One day, he finds the body of a boy he takes for his son. The boy's corpse is then designated for an autopsy, since he was still breathing after supposedly having been exterminated in one of the camp's gas chambers. Saul is then instructed to take the boy to the prison doctor, Miklós (Sándor Zsótér). He is able to convince Miklos not to perform the autopsy. Saul then decides to bury his alleged son's body and tries to find a rabbi who could give him a proper Jewish burial.
Rewards and nominations
Academy Awards, USA 2016 - Winning: Best Foreign Language Film
Golden Globes, USA 2016 - Winning: Best Foreign Language Film - "Hungary"
Cesar, France 2016 - Nomination: Best Foreign Language Film
Cannes Film Festival, France 2015 -Winning: Grand Prix of the Jury, FIPRESCI Prize (competition program), Francois Chalet Award, Prix Vulcain Prize
Cannes Film Festival, France 2015 - Nominated Palme d'Or, Golden Camera (award for his directorial debut) (Laszlo Nemes)
Trailer