Gett: The Trial of Viviane Amsalem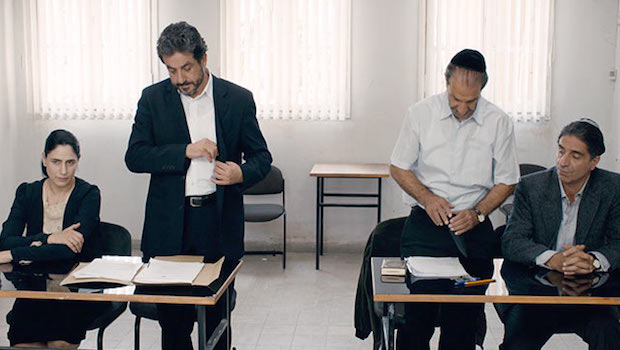 Ronit Elkabetz, Shlomi Elkabetz
Director
Gett: The Trial of Viviane Amsalem(2014)
Country: Israel, France, Germany
Duration: 115 min.
Director: Ronit Elkabetz, Shlomi Elkabetz
Genre: Drama
Screenplay: Ronit Elkabetz, Shlomi Elkabetz
Producers: Sandrine Brauer, Denis Caro, Shlomi Elkabets, Marie Masmonteil
Operator: Jeanne Lapuari
Artist: Ehud Guterman, Lee Alembik
Editor: Joel Alexis
Cast: Ronit Elkabets Simon Abkaryan, Gabi Amrani, Dalia Beger, Schmiel Ben Ari
Category: Main Competition, Narrative Feature
Age limitations : 12+
Plot
In Israel there is neither civil marriage nor civil divorce. Only rabbis can legitimate a marriage or its dissolution. But this dissolution is only possible with full consent from the husband, who in the end has more power than the judges. Viviane Amsalem has been applying for divorce for three years. But her husband Elisha will not agree. His cold intransigence, Viviane's determination to fight for her freedom, and the ambiguous role of the judges shape a procedure in which tragedy vies with absurdity, and everything is brought out for judgment, apart from the initial request.
Rewards and nominations
Golden Globes, USA 2015 - Nominated: Best Foreign Language Film
Asia Pacific Screen Awards 2014 - Nominated: Best Performance by an Actress
Awards of the Israeli Film Academy 2014 - Won: Best Film, Best Supporting Actor
Awards of the Israeli Film Academy 2014 - Nominated: Best Director, Best Actor, Best Actress, Best Screenplay, Best Editing, Best Casting, Best Costume Design, Best Makeup, Best Music, Best Sound
Cannes Film Festival 2014 - Nominated: SACD Prize (Directors' Fortnight)
Chicago International Film Festival 2014 - Won: Best Screenplay
Hamburg Film Festival 2014 - Won: Art Cinema Award
Hamburg Film Festival 2014 - Nominated: Hamburg Producers Award
Hamptons International Film Festival 2014 - Won: Narrative Feature, Outstanding Achievement in Acting
Jerusalem Film Festival 2014 - Won: Best Israeli Feature, Audience Award, Best Actor
National Board of Review, USA 2014 - Won: Top Five Foreign Language Films
Oslo Films from the South Festival 2014 - Won: Best Feature
Palm Springs International Film Festival 2015 - Won: Directors to Watch
San Sebastián International Film Festival 2014 - Won: Special Mention
Satellite Awards 2014 - Nominated: Best Motion Picture
Trailer