Ida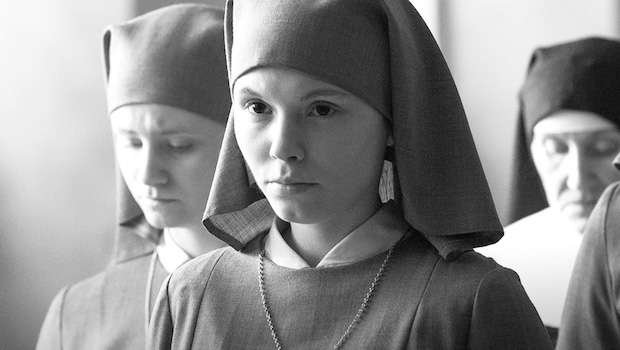 Pavel Pawlikowski
Director
Ida(2013)
Country: Poland, Denmark
Duration: 82 min.
Director: Pavel Pawlikowski
Genre: Drama, History
Screenplay: Pavel Pawlikowski, Rebecca Lenkievich
Producers: Eric Abraham, Peter Dzetsol Eve Pushchinska, Sophie Wanting Hassing, Christian Falkenberg Husum
Operators: Ryszard Lenchevsky, Lukas Hall
Composer: Christian Andersen Eydns
Editor: Jaroslaw Kaminski
Cast: Agata Kulesza, Agatha Tshebuhovskaya David Ogrodniki, Jerzy Trelew
Category: Out of competition, Special screenings
Age limitations : 18+
Plot
Poland, 1962. Anna, an orphan brought up by nuns in the convent, is a novice. She has to see Wanda, the only living relative, before she takes her vows. Wanda tells Anna about her Jewish roots. Both women start a journey not only to find their family's tragic story, but to see who they really are and where they belong. They question what they used to believe in.
Rewards and nominations
Academy Awards, USA 2015 - Won: Best Foreign Language Film of the Year
Academy Awards, USA 2015 - Nominated: Best Achievement in Cinematography
Golden Globes, USA 2015 - Nominated: Best Foreign Language Film
BAFTA Awards 2015 - Won: Best Film Not in the English Language
BAFTA Awards 2015 - Nominated: Best Cinematography
Alliance of Women Film Journalists 2014 - Won: Best Non-English Language Film
American Society of Cinematographers, USA 2014 - Won: Spotlight Award
Argentinean Film Critics Association Awards 2015 - Nominated: Best Foreign Film not in the Spanish Language
Awards Circuit Community Awards 2014 - 2nd place: Foreign Language Film
Bodil Awards 2015 - Nominated: Best Non-American Film
British Independent Film Awards 2014 - Nominated: Best International Independent Film
Broadcast Film Critics Association Awards 2015 - Nominated: Best Foreign Language Film
Camerimage 2013 - Won: Golden Frog - Main Competition
Capri, Hollywood 2014 - Won: Capri Foreign Language Film Award
Central Ohio Film Critics Association 2015 - 2nd place: Best Foreign Language Film
Chicago Film Critics Association Awards 2014 - Nominated: Best Supporting Actress, Best Foreign Language Film, Best Cinematography, Most Promising Performer
Chlotrudis Awards 2015 - Won: Best Original Screenplay, Best Supporting Actress, Best Cinematography
Chlotrudis Awards 2015 - Nominated: Best Movie, Best Director, Best Actress
CinEuphoria Awards 2015 - Won: Best Cinematography - International Competition
CinEuphoria Awards 2015 - Nominated: Best Director, Best Supporting Actress
Cinema Bloggers Awards, Portugal 2015 - Won: Best Cinematography - International Competition
Cinema Bloggers Awards, Portugal 2015 - Nominated: Best European Film
Cinema Writers Circle Awards, Spain 2015 - Nominated: Best Foreign Film
Críticos de Cinema Online Portugueses Awards 2015 - Nominated: Best Film Not in the Portuguese/English Language, Best Cinematography
César Awards, France 2015 - Nominated: CésarBest Foreign Film
Dallas-Fort Worth Film Critics Association Awards 2014 - 2nd place: Best Foreign-Language Film
David di Donatello Awards 2014 - Nominated: Best European Film
Denver Film Critics Society 2014 - Nominated: Best Foreign Language Film
Dublin Film Critics Circle Awards 2014 - Won: Top Ten Films
European Film Awards 2014 - Won: Audience Award, European Film AwardBest Film, Best Director, Best Screenwriter, Best Cinematographer
European Film Awards 2014 - Nominated: Best Actress
Gaudí Awards 2015 - Nominated - Best European Film Pawel
Gay and Lesbian Entertainment Critics Association (GALECA) 2015 - Nominated: Dorian Award - Foreign Language Film of the Year
Georgia Film Critics Association (GFCA) 2015 - Won: Best Foreign Film
Georgia Film Critics Association (GFCA) 2015 - Nominated: Best Picture, Best Cinematography
Gijón International Film Festival 2013 - Won: Best Actress, Best Screenplay, Gil Parrondo Award, Best Production Design, Best Film, Best Feature
Golden Trailer Awards 2014 - Won: Best Foreign Drama
Gopos Awards, Romania 2015 - Nominated: Best European Film
Goya Awards 2015 - Won: Best European Film
Guldbagge Awards 2015 - Nominated: Best Foreign Film
Houston Film Critics Society Awards 2014 - Nominated: Best Foreign Language Film
Independent Spirit Awards 2015 - Won: Best International Film
Indiana Film Journalists Association, US 2014 - 2nd place: Best Foreign Language Film
Indiewire Critics' Poll 2014 - Nominated: Best Supporting Actress
International Online Cinema Awards (INOCA) 2015 - Nominated: Best Non-English Language Film, Best Cinematography
International Online Film Critics' Poll 2015 - Won: Top Ten Films
International Online Film Critics' Poll 2015 - Nominated: Best Cinematography
Italian Online Movie Awards (IOMA) 2015 - Nominated: Best European Film Pawel
LUX Prize 2014 - Won: Lux Prize
Las Vegas Film Critics Society Awards 2014 - Won: Best Foreign Film
Les Arcs European Film Festival 2013 - Won: Best Actress Prize, Crystal Arrow
London Critics Circle Film Awards 2015 - Nominated: Film of the Year, Foreign Language Film of the Year, Supporting Actress of the Year
London Film Festival 2013 - Won: Best Film
Los Angeles Film Critics Association Awards 2014 - Won: Best Supporting Actress, Best Foreign Film
Minsk International Film Festival 2013 - Won: Best Actress, Best Film, Art as Phenomenon, Best Cinematography
Trailer