Shoes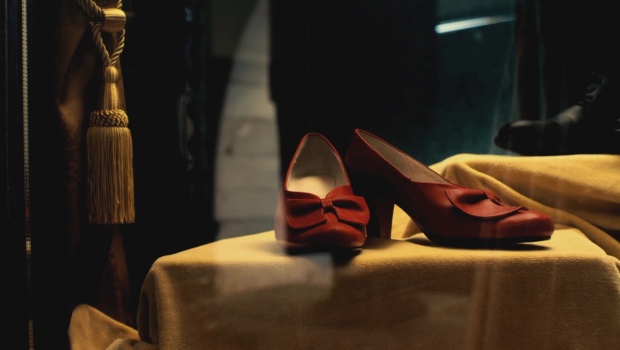 Shoes(2012)
Country: Russia, Belarus, Czech Republic, France, Poland
Duration: 19 min.
Director: Konstantin Fam
Genre: Drama, History, Short
Writer: Konstantin Fam
Composer: Egor Romanenko
Actors: Uliana Elina, Tatiana Spyrgyash, Ilya Uglava, Alexander Bokovets
Producers: Costa Fam, Uriy Igrushа, Miсhail Bykov, Alexey A. Petrukhun, Tanya Dovidovskaya, Krzysztof Wiech, Tania Rakhmanova, Alexey Timofeev, Aleksandr Kulikov, Igor Lopatonok, Sergey Zhdanovich
Cameramen: Asen Shopov, Sergey Novikov, Otabek Djuraev, Marec Gajczak
Category: Out of competition, Special screenings
Age limitations : 6+
Plot
The first installment traces the personal history of a Jewish girl in 1930s-1940s from the point of view of a pair of red shoes. Starting from the shop window where the shoes were purchased and ending at a mountain of discarded shoes of the victims in a mass grave of the Auschwitz concentration camp.
Rewards and nominations
Monaco International Film Festival (Monaco), Best Short Film, Best Director, Best Original Music, Best Producer, Best Cinematographer, Angel Peace Award
Grand Prix Video Festival Imperia (Italy)
Pitching project was held at the 65th Cannes Film Festival
The film is invited to a collection of Yad Vashem (Israel) reference number is V-6195
Radiant Angel Festival (Russia), Best Live Action Short Film Award
Artkino Festival (Russia), The best experimental film Award
1st place of the festival "Vstrechi na Vjatke" (Russia, Kirov)
Special prize magazine "NewMag", the festival "Golden Apricot" (Armenia)
Festival KONIK (Russia), the prize For the contribution to the short film development in Russia
Festival KONIK (Russia), the prize For the musical solution
Opening Film Festival special program in Haifa (Israel)
Trailer