The Chop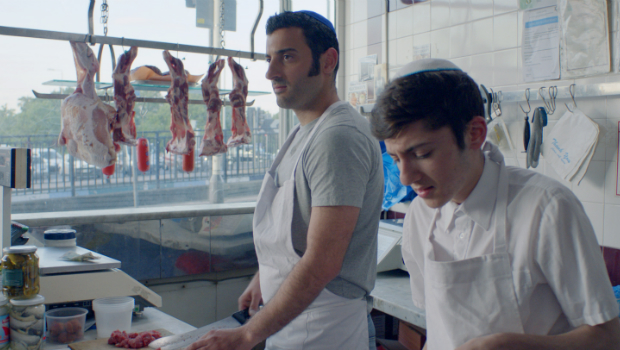 The Chop(2015)
Country: United Kingdom
Duration: 17 min
Director:
Genre: Comedy
Director: Lewis Rose
Screenplay: Lewis Rose
Producers: James Cotton, Leanne Dimant, Alex Emanuel, Michael Etherton
Cinematographer: Emma Dalesman
Composers: Alexandra Harwood, Kobi Israelite
Editor: Samantha Rhodes, Lewis Rose
Cast: Amir Boutrous, Andy Linden, Daniel Cramer, Waj Ali, Waleed Akhtar, Sajid Varda
Category: Competition, Narrative Short
Age limitations : 6+
Plot
"The Chop" tells the story of Yossi, a charismatic kosher butcher who finds himself in a moment of crisis upon losing his job. After ringing round numerous other kosher butchers to no avail, he takes the unusual decision to work in a halal butcher. However to do so, he must use all his guile and charisma to hide his true identity. It is a story that aims to explore the relationship between Jewish and Muslim culture in modern London life, incorporating 'fish out of water' humour with moments of laughoutloud slapstick.
Rewards and nominations
Palm Springs Shorts Fest - Audience Award For Best Live Action
Krakow International Film Festival - Audience Award For Best Film Our The Festival
Cleveland International Film Festival - Best Comedy Short
Rhode Island Film Festival - 1st Prize Hearts, Souls, And Minds
Dc Shorts Festival - Audience Award
Denver Film Festival - Audience Award
Discover Short Film Awards - Best Of The Fest
Discover Short Film Awards - Audience Award
Souq Film Festival - Grand Jury Prize
Devour Film Festival - Best Short Drama
Filmfest Dussledorf - Grand Jury Prize
Trailer